To all of us at Meadows Cat Hospital, being the only family owned and operated (by Issaquah residents none-the-less) cat clinic in East Seattle, Bellevue, Sammamish and Issaquah fdis not just a source of pride but also defines our veterinary clinic's ethos. Simply put, we strive to treat each and every feline (and their owners) like one of our own family. This simple motto defines all of our actions at the business and medical level. Our veterinary clinic offers a strictly compassionate environment that is free of judgement and pressure. Like we would with a family member, we will always recommend the gold-standard treatments that your feline needs but gladly work with you and your budget to prioritize those treatments that are most important to you. In feline veterinary medicine, compassion and empathy can affect outcome. Family defines our hospital, even our new veterinarian and her family have been coming to us for her cat's medical treatments for over 20 years...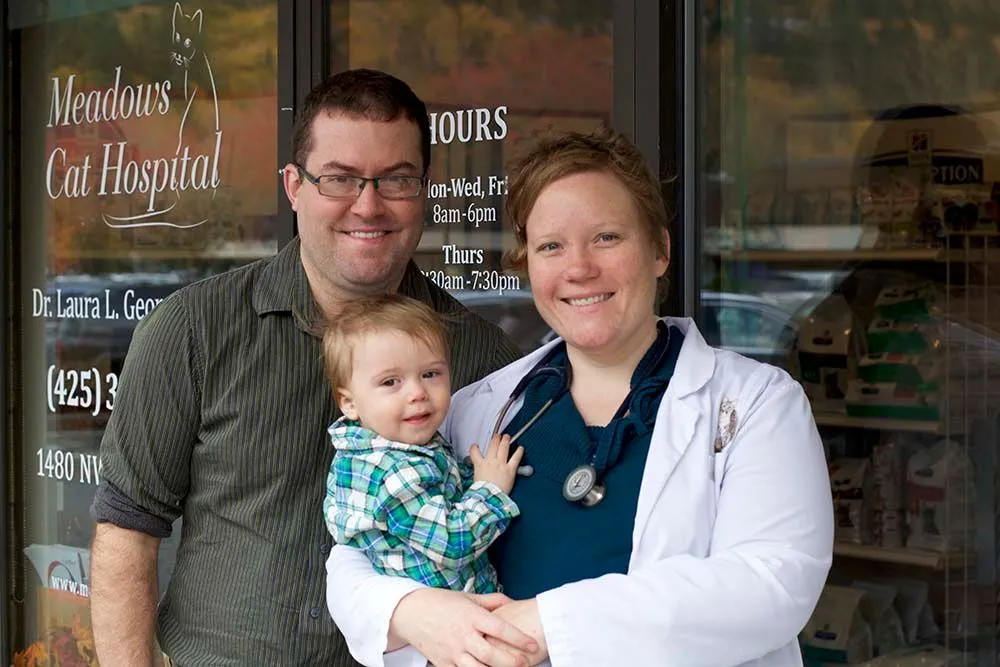 Being Issaquah's only family-owned non-corporate veterinary clinic (cat or dog), we do our best to be more available and approachable than most other veterinary clinics and go out of our way for demonstrations, tutorials, advice, etc. We encourage visits with your kitty for complimentary weight checks, socializing, desensitizing to travel, etc. all free of charge. In addition, we realize that often health or behavioral issues don't just magically get fixed or start/stop in the exam room and as such, we are always available by e-mail or during hours (by phone) to help with any issues you may be having.

Since we are not corporate, our medicine and standard-of-veterinary-care is not dictated by corporate standard or pressures. We are not restricted by unnecessary red tape and are free to practice medicine that is updated and modern and tailored to your cat. In addition, we are not bound by the high volume goals that often drive typical veterinary care. Our standard appointment time is >45 minutes giving you sufficient time to address concerns, review history and get to know the doctor. This flexibility and time allotment is unique to Seattle's greater east side.
To book an appointment with our Issaquah cat veterinarians, call 425-392-8770 and our caring and compassionate staff will be there to help!